The Narrabri Arts Eisteddfod is set to make a triumphant return to the stage this year following its hiatus in 2020 due to the COVID-19 pandemic.
While the much-loved celebration of the arts has been adapted to suit pandemic health requirements, it returns with programs of music, dance, speech and drama – all to be held at The Crossing Theatre.
The eisteddfod provides performance opportunities for singers, actors, musicians, composers, bands, choirs, orators and dancers.

Music launches the program of events that will run from late May to early June.
May 24 marks the start of the music section and will be held until May 26.
The dance program will run from May 28 to May 30.
Speech and drama round out the line-up of eisteddfod activities and is being held from June 1 to June 3.
Adjudicators this year are Neil Roche-Kelly (music), of Toowoomba, Dane Erbacher (dance), of Sydney, and Dr Paul March (speech and drama), of Sydney.
All three adjudicators are very experienced and look forward to encouraging and guiding up and coming performing artists in their creative development.
Eisteddfod committee president, Jacqui Warnock, said entries this year are reasonably strong.
"We love welcoming all performers to Narrabri," she said.
"We are very proud to have our eisteddfod in The Crossing Theatre.
"The eisteddfod relies on community support, for which we are very grateful in order to stage this volunteer run event."
Joining Mrs Warnock on the committee are secretary Julie Roy, treasurer Robyn Constable, program and trophy coordinator Kara Taylor and committee members Judith Watson, Robyn Barnes and Di Ainsworth.
The organisation welcomed Mrs Constable as its new treasurer. She fills the shoes of long-time eisteddfod stalwart Barbara McNamara.
With the community abuzz with excitement as the eisteddfod fast approaches, the committee extends an invitation to all to come and support their local eisteddfod and the many performing artists taking part in the music, dance and speech and drama programs.
Programs are now available to purchase. See details in advertisement below.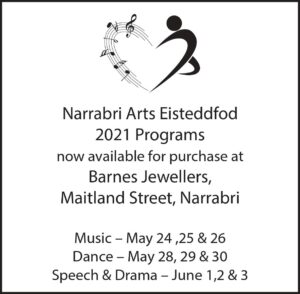 Read more stories like this:
To order photos from this page click here