The Narrabri Creek could reach 6.4 metres tomorrow, attaining a moderate flood level.
Further upstream on the Namoi River, Gunnedah experienced major flooding earlier in the week and a minor flood peak reached Boggabri.
By Tuesday evening, the Narrabri Creek started to submerge the Violet Street low-level bridge. Rising water could cover some of the grassland near Selina Street, Cameron Street and Tibbereena Street.

The creek level exceeded the minor flood level of 4.9 metres by this morning. It's expected to peak on Thursday evening with moderate flooding, the SES advised in a flood bulletin earlier today.
In response to the flood warnings, the local SES is issuing safety advice to the Narrabri Shire.
"Circumstances can change quickly and the community needs to be able to react and adapt," Narrabri SES's Sarah Rushton said.
"You should never dive, ride, walk or drive through flood water – this is the main cause of death during floods.
"Keep up-to-date with local media, including Facebook, the newspaper and the radio to make sure you know the latest news. And keep in contact with people in your neighbourhood.
"We need to ensure we're looking after one another during this time."
Mrs Rushton went on to dispel popular flood myths, such as the usefulness of sandbagging, and offering advice that will prove more valuable.
"You may want to take preventative action with sandbagging, but this is a very laborious task that is incredibly ineffective when it comes to stopping water entry," Mrs Rushton explained.
"If you believe your premises to be inundated, the best action is to start lifting items out of harm's way, immediately.
"Make sure electrical items are placed in the highest spaces.
"You'll also want to relocate waste containers, chemicals and poisons to well above floor level."
Narrabri SES suggest having a personal emergency kit on-hand, just in case.
These kits should include a portable radio, batteries, a torch, a first aid kit, candles and waterproof matches, important documents including emergency contact details, copies of any emergency plans you may need, a waterproof bag for valuables, medications, supplies for anyone with special requirements (e.g. babies), suitable clothing and footwear, food and drinking water.
The SES advises storing this kit in a waterproof container.
In case of evacuation, local SES members may doorknock to advise residents on what to do and where to go.
Locals should take their emergency kits, valuables and pets with them, turning off electricity and gas mains before leaving.
If other animals require assistance, please contact the NSW Department of Trade and Investment, Regional Infrastructure and Services.
This body can help with livestock, companion animals and wildlife during floods.
Follow The Courier and Narrabri SES Facebook pages to stay updated with the latest flood news. And remember, if it's flooded, forget it.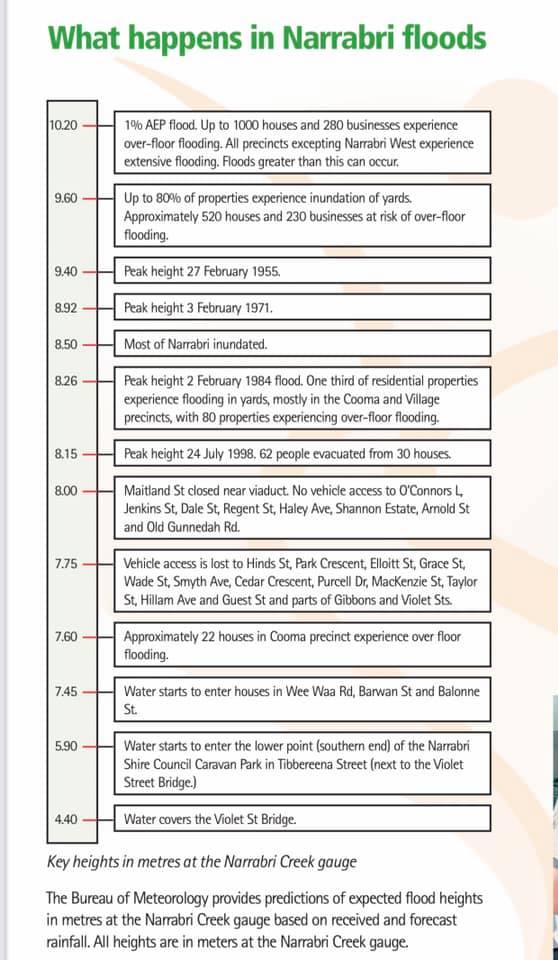 To order photos from this page click here