By publicity officer
'Elephantasia', an exhibition of artwork by local artist Graeme Compton opens on June 11 and is the culmination of a mammoth, creative effort over the past five years.
The collection of works has a big theme binding it together: elephants (in case you had not already guessed from the title).
Graeme has a strong empathy for these massive creatures and finds them a fascinating subject.
His exhibition reveals humour and insight through placing pachyderms in positions normally inhabited by people.
Graeme first struck on the idea a couple of decades ago, when he began drawing elephants playing the piano to amuse his piano students, as a little joke to lighten the task of practice.
Pianistically performing pachyderms began to appear regularly in his newsletters, always with some outlandish reason for having missed piano practice.
After a few years of this, the artist decided it was time the elephants broadened their interests.
He wondered what it would be like if Rembrandt had been an elephant and painted a self-portrait.
The ideas for the exhibition took off from there.
The artist has produced tongue-in-cheek tributes to da Vinci, van Eyck, Rembrandt, and MacMillan, photographer of the famous 'Abbey Road' album cover for the Beatles.
Alongside the 'serious' works are numerous humorous cartoon-style paintings of elephants up to antics which no self-respecting elephant would be, such as hooning about in automobiles.
"It's been a huge task, but well worth it," Graeme said.
"I hope the pictures communicate the joys of exploration which creating art bring. And I hope that the story each person finds in the pictures gives them pleasure," he said.
The 'Elephantasia' exhibition opens from Friday, June 11-14, at the Narrabri Art and Craft Gallery.
The opening features a guitar recital by Steve Tafra, followed by the official opening by Narrabri Shire's cultural facilities manager, Scott Pollock.
See advertisement below for more details.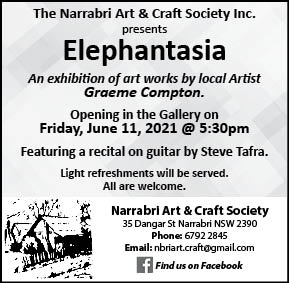 Read more stories like this:
To order photos from this page click here