What could have been a fairy tale ending to the centenary celebration of rugby league in Narrabri has been ripped away from Narrabri Rugby League Football Club's tight grasp after Group 4 Rugby League announced late last week that it had abandoned its plans to continue the 2021 season.
While the Tamworth and Gunnedah local government areas came out of lockdown on Saturday, Narrabri remained under stay at home orders after the town's first COVID-19 case emerged on Wednesday.
That prompted Group 4 to quickly call quits on its 2021 campaign.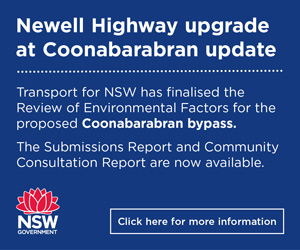 Even if Narrabri came out of lockdown, community sport across NSW would not have resumed in time for a finals series to be played.
It was a disappointing way to end what has been the Narrabri Blues' most successful first grade campaign in recent memory.
Captain-coach Jake Rumsby and his men boasted a three-point lead at the top of the table with just one game to play and were guaranteed a spot in the major semi-final after winning 11 of their 13 games in 2021.
If the Blues got the job done in their final-round match against North Tamworth, or second-placed side Kootingal lost one of its final two regular season matches, Narrabri would have been crowned this year's minor premiers.
Rumsby was confident that his men could have achieved the club's goal of hosting the 2021 grand final day at Collins Park, and he told The Courier that he was disappointed that the season finished the way it did.
"I'm obviously shattered with the decision given how close we were and how hard we've worked all season," the middle forward said.
"Like every other code, we've been training for eight months for a chance to win a grand final and I think we had that chance. We finished on top of the table for the regular season and I think we were probably favourites to win it.
"We had the opportunity to have a home grand final at Narrabri which we aimed at, it was our main goal this year.
"We've been getting great crowds and I reckon we would've had 5000 plus there on grand final day if we got it at home.
"It's a tough one for the town too. We had three codes in first grade – soccer, rugby union and league – that all had the potential to win their grand finals here. We were all one or two in our respective codes which is a big thing for a little town like Narrabri.
"It's a hard one but it is what it is. And you have to put it in perspective, a lot of people are doing it a lot harder than us. There are people out there losing their jobs."
Group 4 Rugby League has not yet decided whether it will award the minor and major premierships or the annual individual awards after the closing of the curtain on what Rumsby described as one of the closest Group 4 seasons he had been involved in.
The Narrabri Blues' captain-coach believes his men have earned the right to be called minor premiers but said that he was undecided whether or not awarding the Blues the major premiership was the right call.
"I'll take it if they are giving it out, 100 per cent, all the boys would take it but it would be a hollow feeling," he said of the premiership.
"You'd get every club saying they would beat us but at the end of the day they didn't.
"I think we deserve the minor regardless though because we did finish on top with just one regular season game to play."
Rumsby thanked everyone involved in the Blues' 2021 campaign, especially the club's small but hard-working committee and the many fans who helped make Collins Park a fortress for the Narrabri men in first grade this year.
As far as 2022 is concerned, Rumsby said he was unsure if he would coach the Blues again next year but added that he believed the majority of the senior squad would be back to fight for the premiership.
He said that whoever coached the side in years to come would have a mixture of both quality youth and experience to work with as the club continues to produce an abundance of talented juniors.
To order photos from this page click here