By Publicity Officer 
During this time of lockdowns and 'stay at home orders' we are learning to appreciate our freedoms and treasure shared time together.
'Creative Friends' is seizing this chance of eased COVID restrictions to open its annual art exhibition, this year appropriately titled 'Unmasked', at the Narrabri Art and Craft Gallery this Friday night.

This group of diverse and dedicated people get together, when possible, on Thursdays at the art and craft workroom to make art and inspire and support each other.
Individually, their paintings and drawings come in a variety of styles and subjects generated from a range of personal experiences.
The exhibiting artists are Zachariah Buckman, Judy Nobilo, Barbara Francis, Helen Smith, Heather Tailby, Jenny Grellman, Carolyn Davis, Robin Stieger, Christine Fry, Judith Cameron, Leone Buckman, Olwyn Campie, Elizabeth McPhee and Craig Salmon.
"We are happy to be coming out of isolation and hope to visually share some beauty, mystery, familiarity and humour with our Narrabri community," spokesperson Robin Stieger said.
"Everyone is welcome and if you can't make it to the opening on Friday evening we will see you at the gallery over the weekend September 25 and 26 between 10am and 3pm.
"'Unmasked' will also be open weekdays from 10am to 3pm," she said.
"Thank you to the Narrabri Art and Craft Society, the volunteers who keep the place running through thick and thin."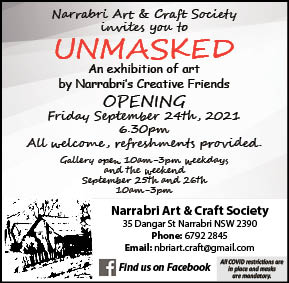 See more from Narrabri Art and Craft Society:
To order photos from this page click here